JIKKO Sashimi Sakimaru Shiko White2 carbon steel Sushi Sashimi Japanese knife | JIKKO Japanese Kitchen Knife Cutlery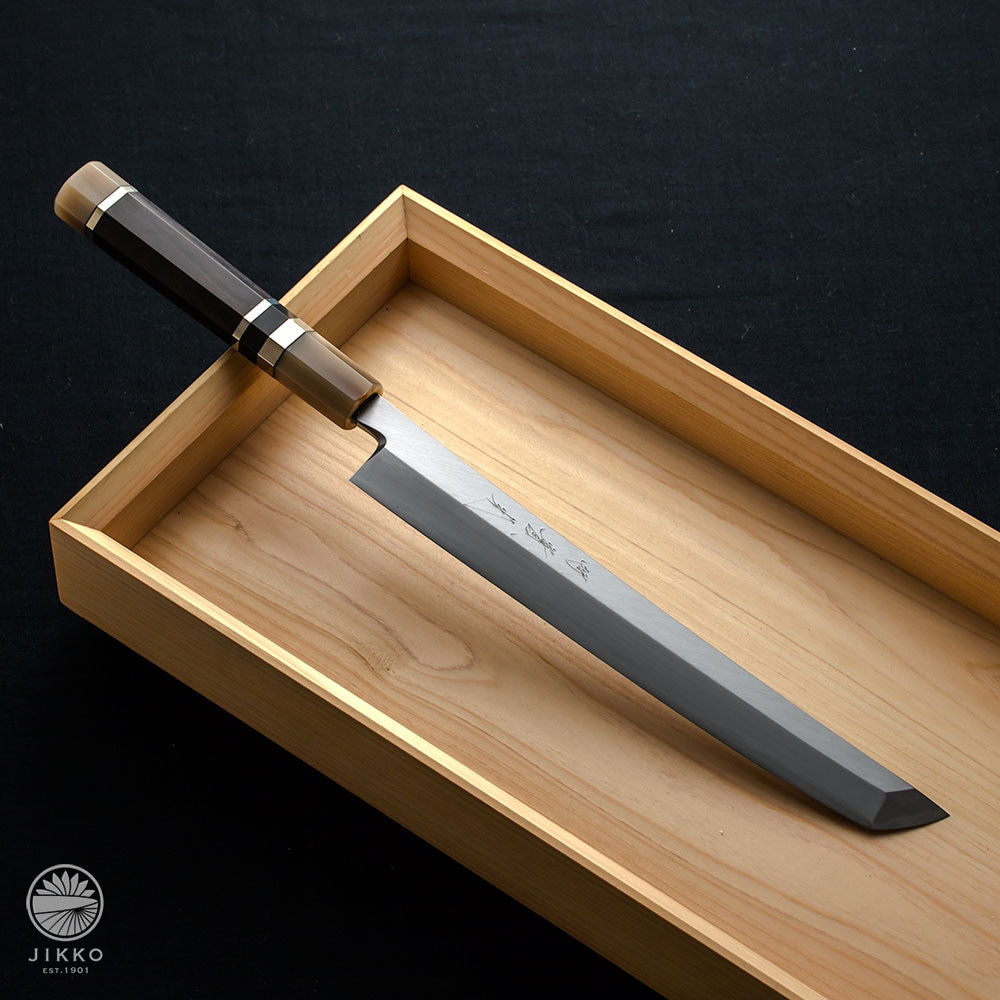 JIKKO Sashimi Sakimaru Shiko White2 carbon steel Sushi Sashimi Japanese knife
Details
Sashimi Sakimaru | Yanagi Sakimaru :
Sashimi Sakimaru is shaped like a Japanese traditional sword. It used for same as Sashimi knife will keep the fish freshness and integrity. You can cut thinner and beautiful makes fish more delicious. Kiritsuke type and Sakimaru type are just design difference, you can use which you like.
White Steel [Shiroko]:
White Steel is the next highest steel material after Blue Steel and has good edge retention, and is easy to sharpen. At Jikko White Steel is our number 1 recommendation to chefs. For those uncertain which steel type is best, we think you should buy white steel as you should not have any problems
.
Style :
Yanagi Knife (Sashimi)
Steel Type :
White2 steel (Carbon steel)
Blade :
Single-Edged
Blade Length :
8.2" (210mm,110g)
9.4" (240mm,145g)
10.6" (270mm,165g)
11.8" (300mm,200g)
Handle Material :
Ebony

Bolster Material :

White Water Buffalo


Our Service :
Free shipping. Free name engraving.
Direction for using knife
Japanese knives has thin and delicate blade. You must care the knife properly.
Do not wash in the dishwasher or dish dryer.
Please keep the knife dry, wipe the knife after use.
Do not leave the knife wet overnight.
Do not cut any frozen food, it cause the knife chipped.
Use the right type of the knife for each task.
Store your knife in a cool and dry place.
Improper care cause rusting and chipping.
Liquid error (sections/product-template line 81): Cannot render sections inside sections