JIKKO ekubo (Dimples) Red Petty knife VG-10 Gold Stainless Steel Japanese (Utility Knife) | JIKKO Japanese Kitchen Knife Cutlery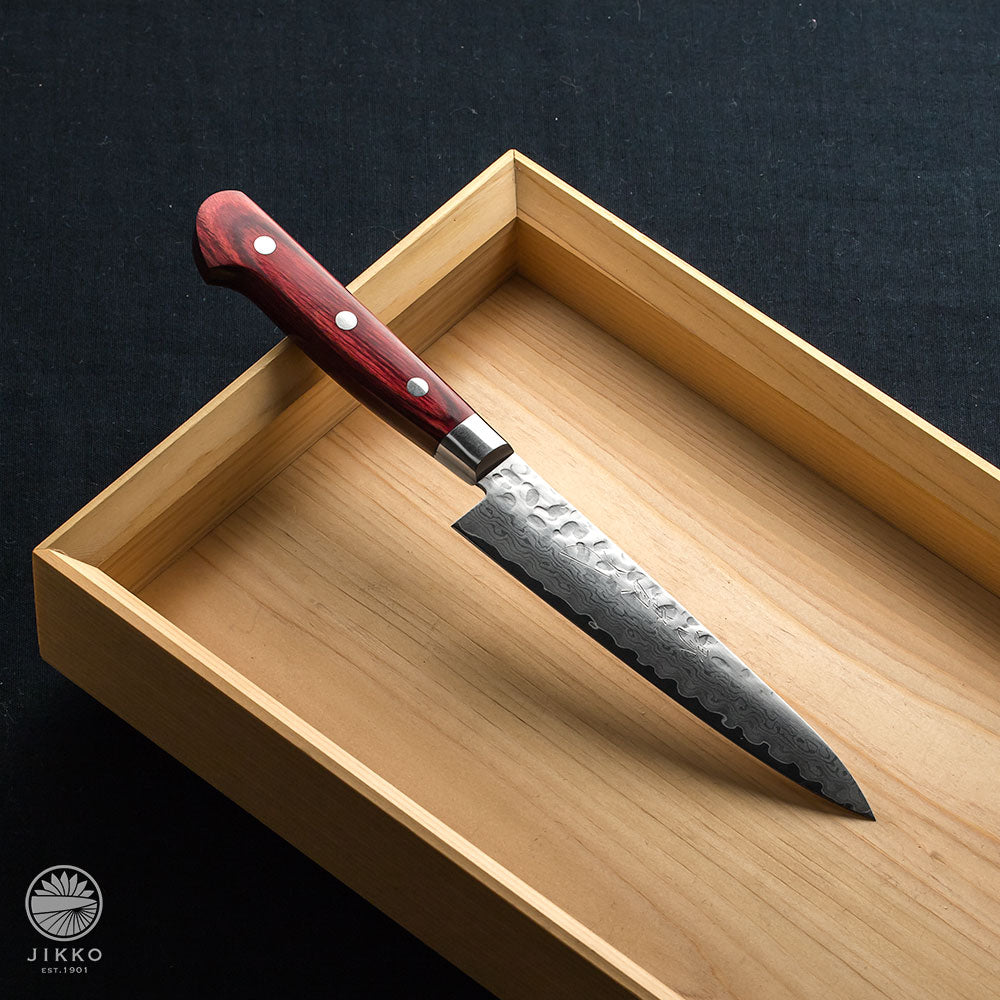 JIKKO ekubo (Dimples) Red Petty knife VG-10 Gold Stainless Steel Japanese (Utility Knife)
Details
Petty
The Petty knife is designed for a smaller chef knife that used for pealing and cutting fruits and vegetables
Even you can carve and style fruits and vegetables for surprising, sensitive beautiful shapes.
The Petty knife will fit in a smaller hand so that makes easier to cut for women and the elderly as well.
The blade of this knife was hammered with 16 layers of steel in Damascus and durable edge.
This knife is made with handcrafted mahogany wooden handles that is as beautiful and functional.
Superior sharpness, stain resistant blade, size fit for small hand knife gives you a great performing.
VG-10
This is one of the most popular stainless steel made in Japan. It is a stainless steel with a high carbon contents that gives VG10 steel great ability to hold an edge. This material is durable and stain resistant that has great value for the knives.
| | |
| --- | --- |
| Knife size: | 135mm |
| Bolster Material: | Stainless Steel |
| Handle: | Mahogany wooden handles |
| Blade Material: | VG-10 |
| Edge Angle: | doubled edged |
Our Service :
Free shipping. Free name engraving.
Direction for using knife
Japanese knives has thin and delicate blade. You must care the knife properly.
Do not wash in the dishwasher or dish dryer.
Please keep the knife dry, wipe the knife after use.
Do not leave the knife wet overnight.
Do not cut any frozen food, it cause the knife chipped.
Use the right type of the knife for each task.
Store your knife in a cool and dry place.
Improper care cause rusting and chipping.
Liquid error (sections/product-template line 81): Cannot render sections inside sections